Executive Director Amanda Malakoff and Lisa Feng, the Senior Director of Policy at Alexion, AstraZeneca Rare Disease (an RDCC member company) joined the Vital Health Podcast with Duane Schulthess for a discussion on the accelerated approval pathway for rare disease treatment development.
Recent proposed federal and state policies to restrict coverage and access to biomedical innovations approved through the FDA's accelerated approval pathway would harm patient access to rare disease treatments. Vital Transformation completed a comprehensive impact assessment of these proposed changes and what they could mean for patients currently lacking treatments and future innovations. According to this research, up to 66% of accelerated approval treatments could be at high-risk of not coming to market or being developed at all if the FDA's accelerated approval pathway were negatively impacted.
Listen below for the full discussion and click here for more information on why protection of the accelerated approval pathway for rare disease treatment is urgently needed.
We appreciate the opportunity to provide comments on EEOC's FY 2022-2026 Draft Strategic Plan and look forward to working together to end the discriminatory practices of employer-sponsored health plans, ensuring that rare disease patients have access to the treatments and therapies they desperately need.
It is vital that EEOC exert its proper authority within its jurisdiction to prevent employers from intentionally or unintentionally discriminating against rare disease patients based on their disabilities and, in so doing, preventing those patients from accessing the transformative treatments that have become available through decades of healthcare innovation.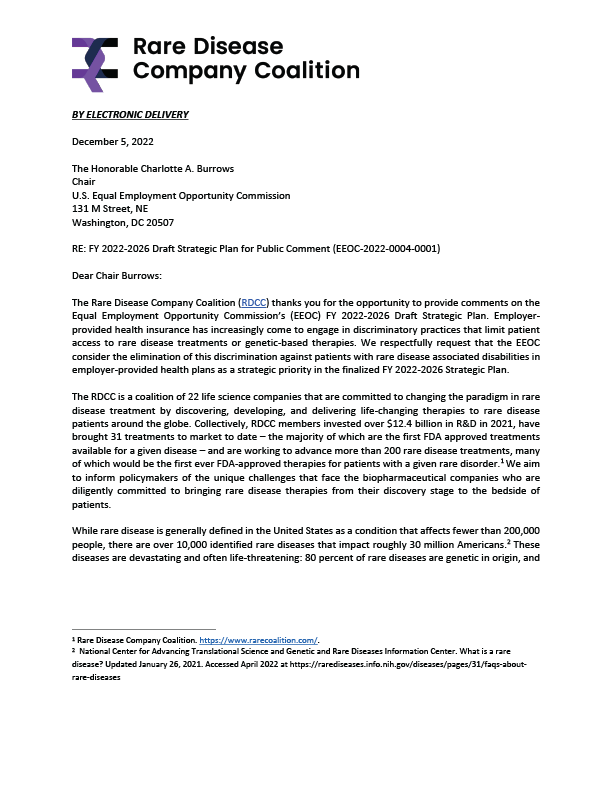 When the pandemic began in March 2020, the scientific community reacted with a dramatic increase in COVID-19 clinical trials, but progress in other therapeutic areas stalled due to safety concerns. The new safety and logistical challenges added by the pandemic resulted in increased costs, delays, and uncertainty in trial initiation and completion for rare disease drug manufacturers. Rare disease patients have conditions that make them more susceptible to and higher risk for COVID-19, making it especially difficult for this population to participate in clinical trials.   
By October 2020, an estimated 80 percent of non-COVID trials were stopped or delayed during the pandemic. Over 700 trials experienced disruptions since the beginning of the pandemic, with over 250 suspending enrollment due to the pandemic. In May 2020, NIH Director, Dr. Francis Collins estimated that $10 billion of research outside of COVID-19 had been lost. Given the tumultuous two years that have followed, the amount of lost research has continued to multiply.
Many of the companies investing in rare disease research are small biotechnology companies that face particularly stark financial challenges, leaving them with exceedingly difficult choices on whether to resume their trials or stay in business altogether. Much of the critically necessary rare disease clinical research remains stalled, while millions of patients are waiting for breakthrough treatments and cures for the diseases that threaten their lives.
The RDCC is grateful for the leadership of Representative Josh Gottheimer (D-NJ) and Representative Don Bacon (R-Neb) to co-sponsor The Orphan Drug COVID-19 Mitigation Act and push for its inclusion in the next available legislative vehicle. Learn more on this important issue which will help to bring hope and needed cures to the at least 95 percent of rare diseases currently lacking an FDA-approved treatment in this letter.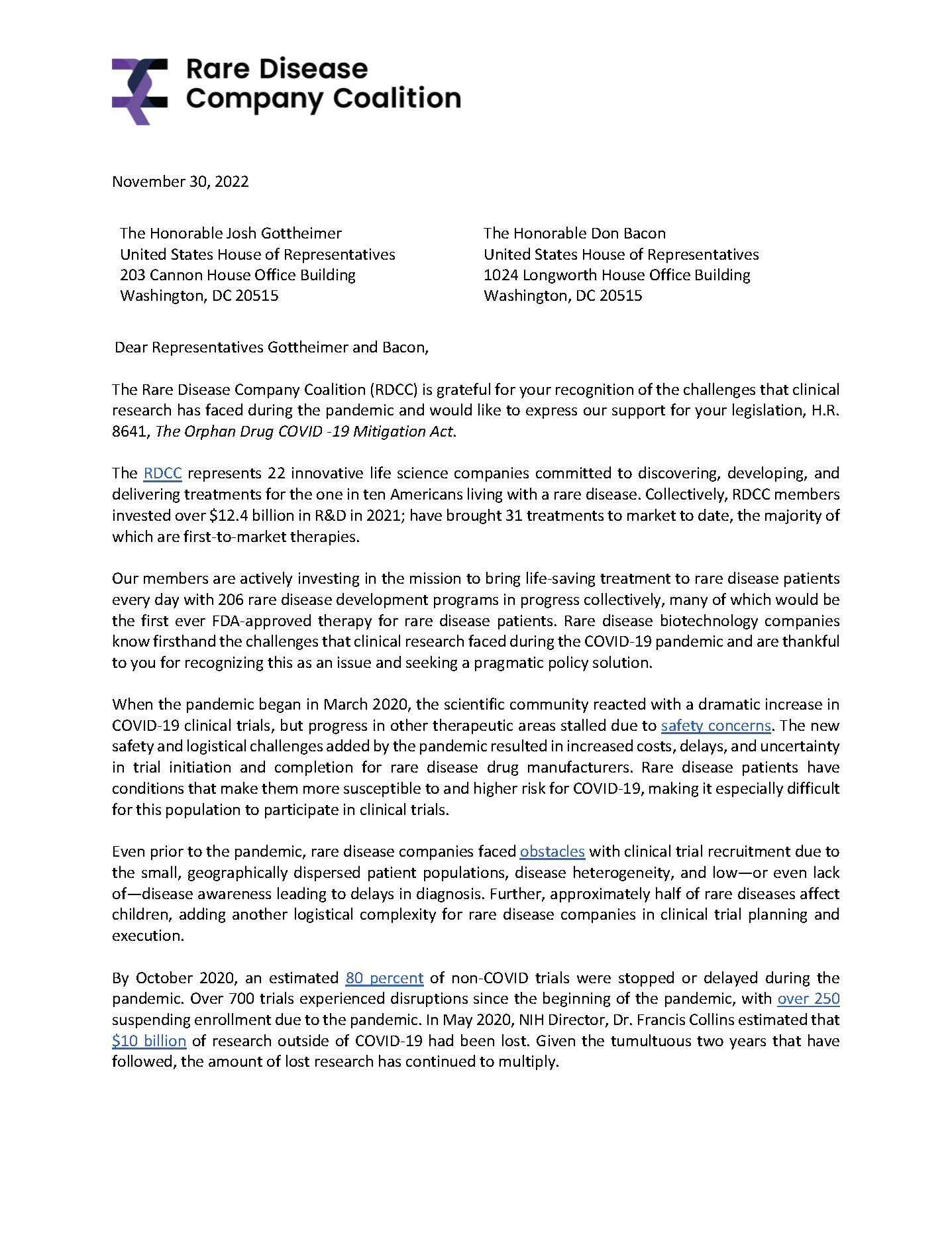 Executive Director Amanda Malakoff joined the Global Genes RARE Cast Podcast for a discussion with Daniel Levine. In this podcast, Amanda covers a range of topics, including why the Coalition was formed, the current policy landscape for rare disease therapies, and our policy priorities for the year ahead grounded in the continued advancement of R&D for rare disease treatments so that patients can have the best access to the treatments they need.
Listen here:
Rare disease advocacy groups hope the new Congress will prioritize investment in the development of rare disease treatments by passing bills that restore and reinforce seven-year exclusivity for drugs being developed for specific rare conditions, require regular reporting to improve the approval process of orphan drug designation and ensure patient input is counted throughout the development process.
With Republicans set to control the House and Democrats to maintain control of the Senate, and new committee leaders yet to be formally announced, it's too early to tell how legislation aimed at accelerating the development of rare disease treatment will be handled, sources say, despite bipartisan support for some measures.
Amanda Malakoff, executive director of the Rare Disease Company Coalition, is hopeful that bills like the Better Empowerment Now to Enhance Framework and Improve Treatments (BENEFIT) Act and the Helping Experts Accelerate Rare Treatments (HEART) Act have the bipartisan support needed to be pass in one or both chambers next year.
The BENEFIT Act would make sure patient experiences, patient-focused drug development and other related data are considered as part of FDA's risk-benefit assessment, while the HEART Act would require FDA to consult external experts and stakeholders while also providing reports on how FDA is handling applications for a drug to be designated for the treatment of a rare disease.
"There's just a lack of expertise in general in [the area of] rare disease, so we really advocate for the FDA making sure they're bringing people with the most timely and relevant knowledge into the process," Malakoff told Inside Health Policy.
"Anything that can be done to streamline the process at FDA will help give that confidence back to investors on rare disease and biotech, and those two bills are just examples of steps Congress can take to help make that happen," Malakoff added.
Another bipartisan bill, Cameron's Law, would increase the tax credit for clinical testing expenses under the Orphan Drug Act from 25% back to the original 50%, years after the Tax Cut and Jobs Act reduced the credit in 2017. Malakoff said restoring the tax credit to its original parameters would make it more economically feasible for drug companies to develop rare disease treatments and could also send a positive message to investors.
Malakoff noted that provisions from both the BENEFIT Act and HEART Act had been included in Congress' user fee reauthorization bill at different points in time before it passed in September. It's unclear whether measures from either bill will make it into the upcoming year-end legislation.
Heidi Ross, vice president of Policy and Regulatory Affairs at the National Organization for Rare Disorders, said that reinforcing the seven-year exclusivity period for rare diseases and conditions under the Orphan Drug Act, and specifying that this period prohibits the approval of other drugs for the same use or indication, is another issue that may be able to garner bipartisan support. The Retaining Access and Restoring Exclusivity (RARE) Act, co-sponsored by Sens. Tammy Baldwin (D-WI) and Bill Cassidy (R-LA), would do just that.
Cassidy is expected to be the ranking Republican on the Senate health committee.
The bill would reverse the September 2021 Catalyst v. Becerra decision that upended FDA's longstanding narrow interpretation of how and under what circumstances the exclusivity period should be granted.
"Our concern is that you will end up in a world where if you are awarding exclusivity to just cystic fibrosis, then you're not going to have companies have the proper incentives to study those more challenging patient populations. The biggest population might be genetic mutation XYZ, but the patients that have genetic mutation ABCD also deserve to know that a therapy is safe and effective for them," Ross said.
Similar language that codifies the FDA's prior interpretation of how to award orphan drug exclusivity was included in the version of the Food and Drug Administration Safety and Landmark Advancements (FDASLA) Act and the Food and Drug Amendments of 2022 passed by the House passed in June. The provision ultimately did not make it into the final clean user fee package that Congress passed in September, but many of the FDA reforms that were left out of the final package could still be included in year-end legislation.
If not included in Congress' year-end legislation, Ross said it's also possible the RARE Act alone could garner bipartisan support next Congress should Cassidy become the ranking Republican of the Senate health committee. — Gabrielle Wanneh (gwanneh@iwpnews.com)
A recent study finds that FDA's accelerated approval pathway can lead to faster drug development and more treatment options for patients with rare diseases that are difficult to study. Once a drug obtains FDA approval – whether through a traditional or accelerated approval pathway, patients can access the therapies through Medicaid benefits, saving lives and easing the medical burdens of many. 
However, suggested proposals to limit reimbursements for accelerated approval therapies within Medicaid would limit access to—and threaten the future development of—orphan drugs that rely on this trusted pathway for viability. These proposed policy changes would cause both immediate and lasting harm to the rare disease community – and disincentivize future use of the valuable pathway for certain rare diseases.
RDCC calls on Congress to reject these unfounded proposals and instead support policies that would promote greater patient access to FDA-approved therapies. 
Read more about the study's findings and how to protect accelerated approval for rare disease treatments in this overview.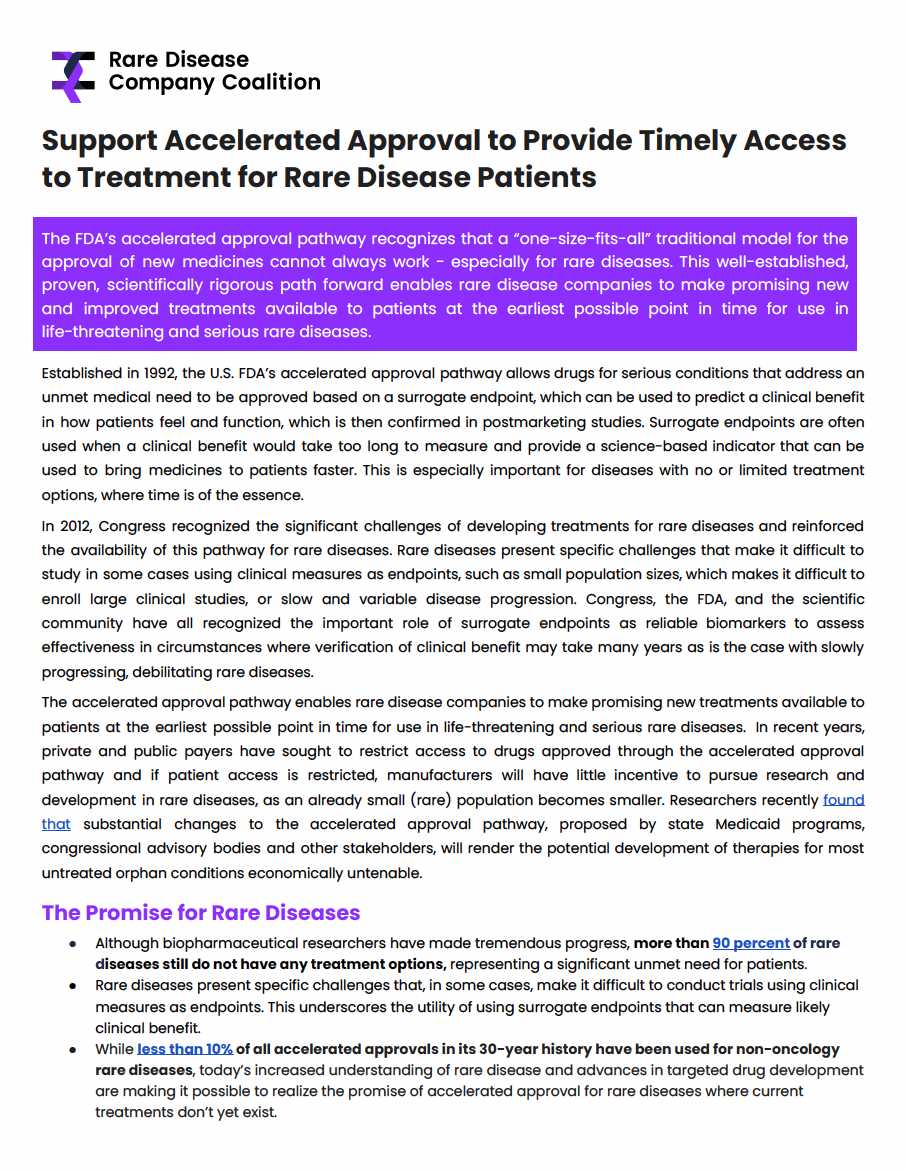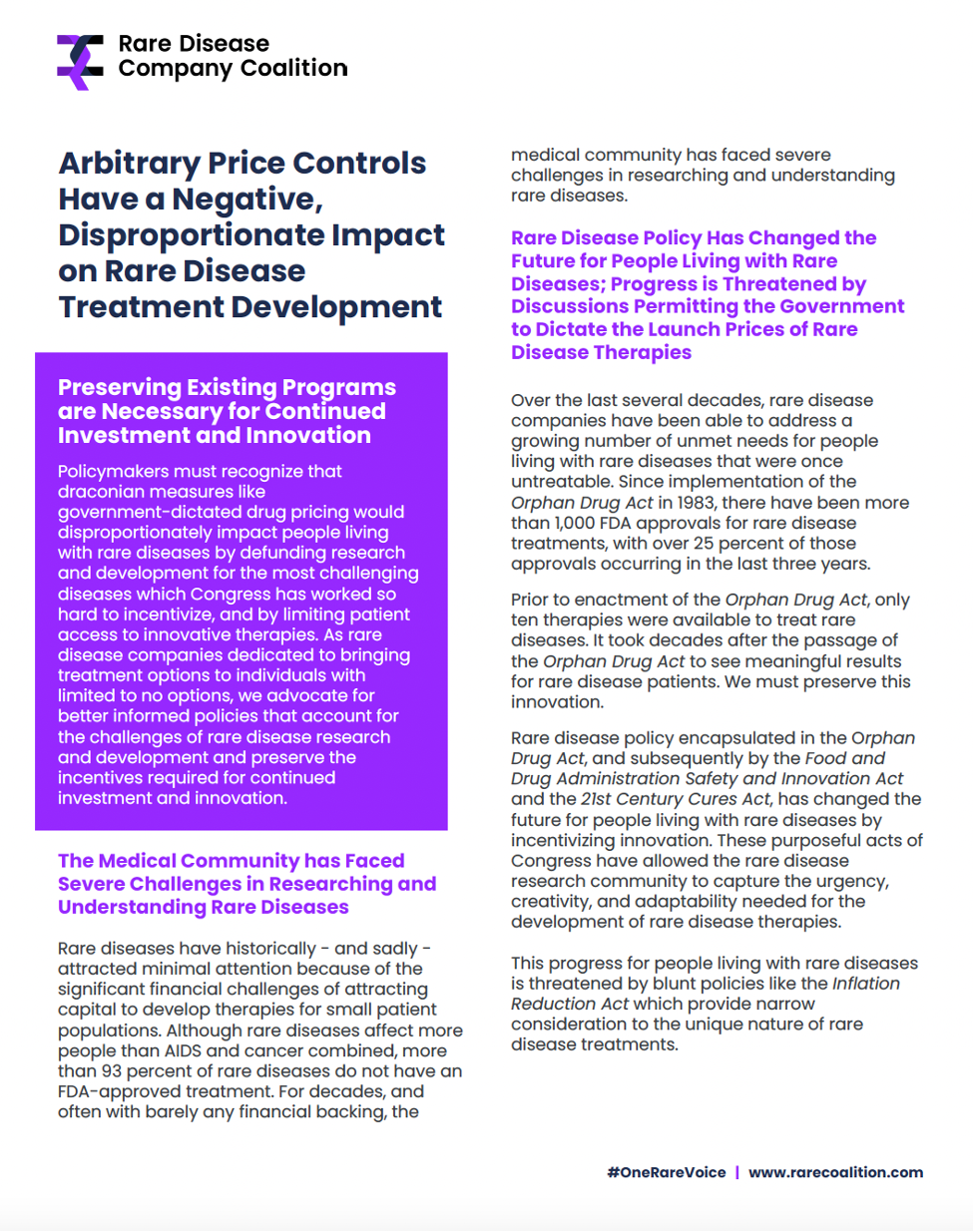 By: Amanda Malakoff, Executive Director, The Rare Disease Company Coalition
The state of the biotech industry is at a critical inflection point. From one perspective, people are calling this era the golden age for biotech, where cutting edge medical discoveries are showing incredible promise. For example, rare disease biotechs have recently pioneered the ability to treat patients by permanently modifying a single gene to cure disease. It's thanks to recent medical and technological innovations like these that there has never been a more dynamic time for biotech. However, from another perspective, capital is fleeing the rare disease biotech industry, prompting concerning headlines like "Biotechs face cash crunch after stock market 'bloodbath'." This paradox makes it easy to see why, despite the incredible innovations being made in biotech today, it is becoming increasingly difficult to realize the full potential of promising biotech innovations.
The Rare Disease Company Coalition (RDCC) represents nearly two-dozen life sciences companies that are researching, developing, and bringing treatments to rare disease patients – often those who previously had no options available to them – thanks to breakthroughs in molecular, cell, and gene therapy. Last month, I represented the RDCC on a panel discussion on the State of the Industry at The Business of Rare Policy Summit in Washington, DC, where experts and stakeholders came together for a day of dialog. 
My fellow panelists and I spoke to the challenges facing clinical stage rare disease biotechs today. Namely, without products on the market, they do not bring in revenue and are largely dependent on capital markets to fund their research. However, it's not just clinical stage companies relying on investment for research and development (R&D). Due to the complex nature of rare diseases, a comparatively higher percentage of operating expenses is dedicated to research and development all rare disease life science companies. Commercial stage companies with treatments on the market continue to invest their profits back into R&D, spending more on research than they make in revenue. As a result, commercial-stage rare disease companies often must raise billions of dollars from investors to sustain R&D. 
Unfortunately, the recent downturn in the biotech stock market is keeping promising treatments from coming to market and has left an industry once flooded with money now strapped for cash. During times of economic uncertainty, investors look for lower risk portfolios, and look to key inflection points and milestones in the pharmaceutical regulatory review process. By its nature, the rare disease drug development process incurs more risk. Treatments are manufactured for limited population sizes, but their development costs remain the same or higher than drugs for larger populations due to the lack of natural history, complex diagnosis, limited access to patients for participation in clinical trials, and the often-unprecedented regulatory pathway. Public policy has a huge impact on raising capital and getting treatments to market, yet the government's lack of consistency in addressing these challenges is putting undue constraints on potential private investment.
Investors want certainty and often look to policies made in Washington as key indicators. A "one-size-fits-all" approach to policies like drug pricing and value assessment frameworks can be especially detrimental and destabilizing to rare drug development. Amidst the current economic headwinds, it is more important than ever for Congress to preserve and foster biotech innovation so that the gains that have been made are not lost. Supportive federal regulations and policies are sorely needed to help spawn private investment in the rare disease biotech industry. 
Let's look at hard numbers to illustrate this point. Policies like the Orphan Drug Act (ODA), which was enacted in 1983 to facilitate the development of treatments for rare and ultra-rare conditions, has had outstanding success in furthering the industry. Prior to the ODA, only 38 orphan drugs had been approved in the US, compared to over 700 today. However, in 2017, some in Congress halved the Orphan Drug Tax Credit to 25%, and significantly reduced this powerful incentive made possible under the ODA for companies to invest in cures for rare diseases. Given that less than 7% of all rare diseases have an FDA-approved treatment, we simply cannot afford to reduce incentives to find, treat and cure rare diseases. 
Policies must account for the complexity of rare disease drug development, which requires substantially different – and often more costly – trial designs and business models than therapies for larger patient populations. To offset the higher risk and costs associated with rare disease research, Congress must do more to provide incentives and increased certainty for rare disease companies by strengthening policies like the Orphan Drug and R&D tax credits. Doing so would send a reassuring signal to investors and help companies secure critical funding needed to continue their important work.
Rare disease research is at a precipice where years of efforts and innovation are yielding incredible results with the potential to give patients a better chance at life. Researchers, doctors, and patients are working together to advance cutting edge medical innovation, presenting us with an extraordinary opportunity to bring hope to the more than 90% of rare disease patients that lack treatment today. 
While the financial challenges facing the biotech industry are significant, the solutions are straightforward. Rare disease biotechs need investors, and investors look to decisions made in Washington to provide certainty. With so many promising therapies on the horizon, it is imperative that policymakers act now to ensure the continued success of the industry. We are on the precipice of a golden age for biotech, and to fully realize it, we must confront the reality of the market head-on and work together to create an environment that catalyzes investment for rare disease research.
See More Video Clips
Research and development (R&D) is at the heart of rare disease innovation. Due to the complex nature of rare diseases, a comparatively higher percentage of operating expenses is dedicated to R&D for the over 93% of rare diseases without an FDA-approved treatment. 
In 2021, our 21 Coalition members alone invested more than $12 billion into R&D, representing on average over half of their annual budgets. In addition, many of our members with products on the market are continuing to spend more on R&D than they make in revenue, investing profits back into future treatment development. The result of these endeavors have built a remarkable hub of innovation, growth and investment across life science companies. 
However, a harmful tax change that if not reversed, will hurt rare disease companies' ability to advance lifesaving innovation while limiting additional job creation and development here in the United States. Up until January 2022, a business in the United States could deduct 100% of their R&D expenses in the year during which those expenses incurred.  
Now, a change in the tax code that took effect this year requires businesses to spread those deductions over a period of years—the so-called amortization requirement—making investment in innovation more expensive to conduct.
This week, RDCC joined over 400 organizations across the greater business community to urge Congress to repeal this harmful tax change. Doing so is vital to ensure that rare disease companies can continue to innovate, advance continued and ambitious research and development programs, and bring treatments to patients. On the cusp of significant breakthroughs in molecular, cell and gene therapy advancements, we must continue to support medical innovation taking place at rare disease companies to support delivery of life-altering treatments to rare disease patients.
Read the full letter to Congressional leadership here.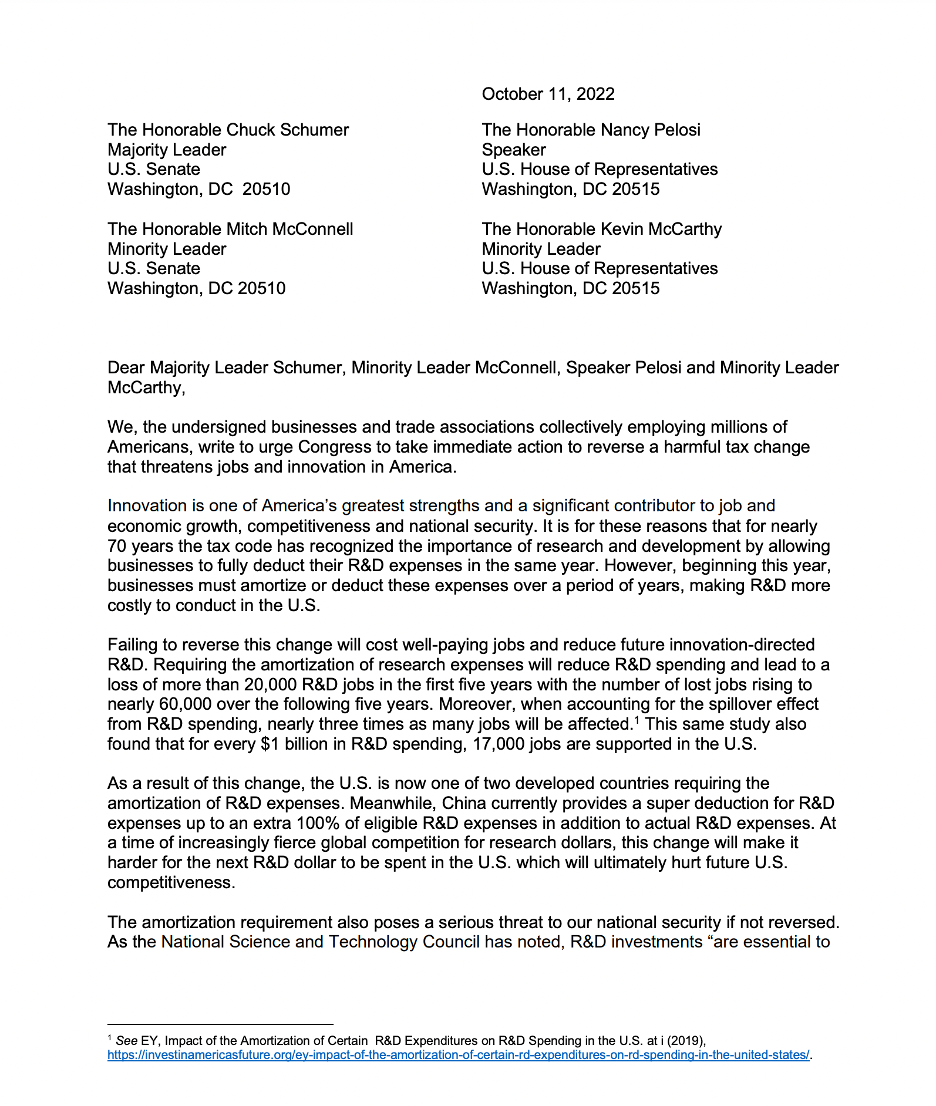 The Rare Disease Company Coalition (RDCC) submitted comments on S. 4348, the Food and Drug Administration Safety and Landmark Advancements (FDASLA) Act of 2022. In a follow-up letter to the House Energy & Commerce (E&C) and Senate Health, Education, Labor, and Pensions (HELP) Committees, the RDCC writes to commend the work done to date while strongly encouraging the timely reauthorization of the user fees to ensure continuity of critical funding for the Food and Drug Administration. Timely action will avert a delay in the rare disease drug review process.
Please see here for the RDCC's letter.