Amanda Malakoff, Executive Director of the Rare Disease Company Coalition, was invited to speak during FDA's Rare Disease Day 2023 virtual public meeting on February 27th. Please see below for a transcript of her remarks.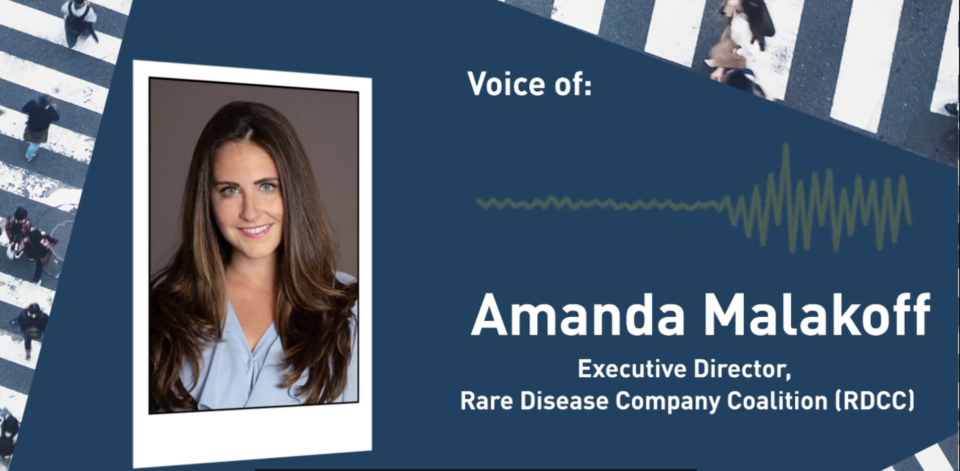 ---
My name is Amanda Malakoff, and I serve as Executive Director for the Rare Disease Company Coalition, or the RDCC. To provide a brief background on us, we launched two years ago to represent the policy needs of 20+ rare disease companies working to develop and deliver rare disease treatments to patients. Collectively, our 21 members invest over $12 billion annually in research and development with over 200 new treatments in their pipelines.
We want to thank the FDA for making rare disease drug development a growing priority at the agency. The RDCC applauds relevant programs passed in the user fee authorization bill such as the Rare Disease Endpoint Advancement Pilot Program, increased funding for FDA, ARPA-H, and NCATS for rare disease research, policies aimed at improving clinical trial diversity, and more. We also are thrilled to see CDER's recent launch of the Accelerating Rare disease Cures program.
Despite recent cutting-edge medical breakthroughs in rare disease biotech, and these supportive regulatory effort, many challenges still remain in getting treatments to the rare disease patients who need them in an urgent manner.
For example, rare disease company sponsors cite inconsistent feedback across review divisions as an ongoing barrier to meeting regulatory timelines. As FDA gears up to hire many new reviewers in PDUFA VII (7), and initiates a review of drug approval trends across review divisions, we recommend that the agency streamline the approach to training new reviewers on rare disease drug development. In addition to internal consults, external consultation with patients, patient groups, disease-specific experts, and small population study experts will help the agency make well-informed decisions and avoid roadblocks in providing patients with timely access to new treatment options.
We also encourage our agency partners at the FDA to use the flexibility granted by Congress with respect to standards for conducting rare disease trials in a consistent manner. One critical tool for rare disease drug sponsors is the accelerated approval pathway, which can offer hope to patients by providing life-changing, and sometimes life-saving, treatments years earlier. Although a significant percentage of the agency's accelerated approvals have been for oncology, we believe this can be a critical pathway for rare diseases as well and would like to see the agency provide the appropriate support for rare disease drug sponsors who opt to use this regulatory pathway. As many rare diseases are progressive in nature, and around half affect children, time is crucial. The RDCC looks forward to serving as a constructive partner on rare disease drug development issues with the agency and key stakeholders in the rare disease community. Thank you for the chance to engage in today's important conversation.